Greetings by FM Liberman at inauguration of the Butajira Center for Excellence in Agriculture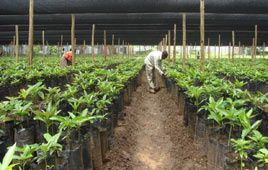 Greetings by Deputy Prime Minister and Minister of Foreign Affairs Avigdor Liberman at the inauguration of the Center for Excellence in Agriculture in Butajira, Ethiopia
Shalom.
I am pleased to be here with you today in Butajira, for this visit symbolizes first and foremost the friendship and partnership between nations, and gives expression to the efforts invested to find worthy solutions to the challenges which we all face.
Israel's relations with Ethiopia and the other nations of Africa are special. Israel, reborn in 1948, was one of the first countries to recognize the African states who acquired their independence from colonial rule in the 1950s and 60s. Our ties with Ethiopia and Africa are based on shared values and mutual respect. Indeed, both the Jewish people and the peoples of Africa had suffered from foreign rule, racism, and exploitation. Both struggled for liberation, succeeded in establishing modern nation states reflecting their own cultural and historic legacies. Israel, Ethiopia and the countries of Africa believe in striving for a better world, one in which each human being enjoys dignity and the fruits of life without distinction between language, religion, gender or nationality.
During this time of a global food crisis, as well as the economic and climate crises, we must persist in seeking solutions and efficient methods to attain better and greater crop yields for the sake of the farmers of the region and for the sake of all those who need their produce.
The achievements of the nursery are, indeed, impressive: a productive capacity of 50 thousand seedlings per year, a computerized irrigation system and the introduction of the latest bio-technologies innovations. All this was made possible thanks to the hard work of the dedicated experts from three countries – Ethiopia, the United States, and Israel.
The Center for Excellence in Agriculture which we are inaugurating today is one of those important and meaningful steps that enable the exchange of information, technologies, and knowhow which can lead to change, not only for the region, but also for many countries around the world.
The aspiration to excellence motivates the best researchers and farmers from different nations to mobilize all their strength and energy to develop new species, and to obtain crop yields of higher quality which contribute to the health and welfare of every person.
I wish to express our appreciation for the opportunity that is being given to Israel to be a partner in this impressive project of the Government of Ethiopia to advance agriculture in the region and to integrate such components as biotechnology and advanced planting methods.
I am also glad to have this opportunity to thank the Government of the United States for the leading role in mobilizing efforts and means to meet the challenges of development, and not just here in Ethiopia. President Obama inspired all of us in his impressive speech in Accra. The accomplishments here in Butajira are, indeed a reflection of the generous American contribution.
I am convinced that the knowledge and experience that is being accumulated here in Butajira will benefit not just this region, but also many other where it is important to improve and increase agricultural capacity.
Let us together duplicate this successful model of cooperation in other places as well.
I wish to thank the professional teams from the three countries who have been working together for four years in harmony, friendship, and cooperation: the experts from Ethiopia's Ministry of Agriculture and Rural Development led by the Honorable Minister of State Dr. Abera Deressa, from USAID, and from MASHAV and CINADCO.
To conclude, we bid a warm farewell to Mr. Itamar Yisraeli, who led on our behalf the professional coordination and implementation of this project, and who is completing his important three year mission to return in a few days to Israel. Itamar, thank you so very much! You can be proud, as we are, of the fruits of your labor; and we wish you the best in your course ahead.
Dear distinguished guests, ladies and gentlemen, with a warm shalom and words of friendship, I wish us all much success in the future.