New Zealand's elected jewish PM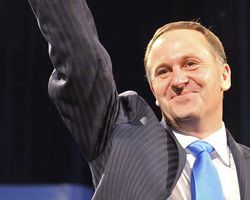 New Zealanders chose a multimillionaire former foreign currency trader on Saturday to lead them through the global financial meltdown, handing longserving left-wing Prime Minister Helen Clark a crushing election defeat.

Conservative leader John Key invoked Barack Obama's catchcry of now being the time for change in his victory speech, and even joked that he wouldn't match the U.S. President-elect's promise of a new dog for his kids.
Both comments were a sign of how far Obama's win - broadcast live on television just a few days before New Zealanders voted - has reverberated.
Key's conservative National Party easily won power in the South Pacific's largest country, known internationally for its pristine environment and as the backdrop to the "Lord of the Rings" movies.

"Today, New Zealand has spoken, in their hundreds of thousands, and they have voted for change," Key told supporters at a packed victory celebration in the country's largest city, Auckland.

New Zealand's farming export-dependent economy fell into recession early this year, and Key said the worldwide downturn is the most immediate problem for the country. "The global financial crisis means that the road ahead may well be a rocky one," Key said. "Tomorrow, the hard work begins."

Key, like Obama, is 47 years old and belongs to a minority group in his country. Key's mother, Ruth Lazar, is a Jewish immigrant from Austria and is considered an active member of New Zealand's Jewish community of about 5,000. Key has been less than forthcoming about his positions regarding Israel, but stresses in interviews that he is a friend of Israel and wants to visit Jerusalem. Members of the Kiwi Jewish community point out that Key took part in Israel's 60th anniversary celebrations, and has donated to Hadassah University Hospital in Jerusalem.

Key has promised a more right-leaning government than Clark's, which for almost a decade made global warming a key policy issue and led the international condemnation of scientific whaling. In a country where the environment is a mainstream political issue, Key has vowed to wind back Clark's greenhouse gas emission trading scheme to protect businesses from financial losses, and to reduce red tape that he says will entangle infrastructure projects, such as dams, due to environmental concerns. Clark had wanted New Zealand to become the world's first emissions-neutral country.

Seeking a historic fourth term that would have pushed her rule past a dozen years, Clark accepted responsibility for a crushing loss by quitting as Labor's leader - effectively retiring to obscurity. She blamed a "time-for-a-change factor, and that took us out with the tide" for the election loss. "So, with that it's over and out from me. Thank you New Zealand for the privilege of having been your prime minister for the last nine years, Kia ora Tatou," she said, reciting a farewell in the indigenous Maori language.

Key will not need the support of the indigenous Maori Party, which won five seats but will not hold the balance of power. He said he would reach out to the Maori Party anyway and seek their support in Parliament. During the campaign, Clark accused Key of having a hidden right-wing agenda, which he denied. Allies within Key's coalition indicated they would try to squelch a hard-right agenda. "The last thing New Zealand needs now with a new government is an outburst of extremism," said United Future Party leader Peter Dunne, who is aligned with the Nationals and has been offered a ministerial post.

Also notable was a rise in the vote for the Maori Party, which won one more seat for a total of five, but two short of its target. Foreign affairs and trade policies are unlikely to change under Key including the long-standing ban on nuclear-powered ships entering New Zealand ports that has rankled its U.S. military ally. New Zealand's small number of troops doing reconstruction work in Afghanistan will remain. New Zealand has no troops in Iraq.

(Source: Haaretz)